Diversifying My Business Webinar Series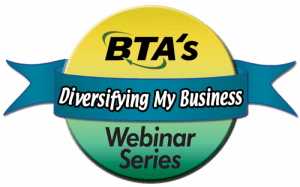 Assisting dealers seeking to add new products & services
Length: One hour
Cost: Free to BTA members
The following webinar has been scheduled:
Members: Click on the registration link above to register. You will need your BTA username and password to access the registration page. After registering, you will receive an email containing information about joining the webinar.
Watch this page for additional "Diversifying My Business" webinars, to be announced as they are scheduled.
Interested in sponsoring a Diversifying My Business webinar?
Email Valerie Briseno at valerie@bta.org for more information.