BTA's General Counsel, Robert Goldberg, has 43 years of industry experience. He provides members with no-fee advice and guidance on a diverse range of topics, including dealer/manufacturer disputes, dealer contracts, employment matters, industry documentation, legislative issues, sales tax matters, fraudulent telemarketing, business valuation and general industry and business issues as they affect dealers and resellers. Goldberg can evaluate legal needs, provide advice and guidance, review and analyze reseller contracts and serve as a third party to help resolve business disputes without costly and protracted litigation. He is available by telephone, email and at most industry events. Goldberg will answer your questions and provide advice, general reviews and templates, but cannot negotiate or customize contracts or templates specifically for your business.
"My membership this year saved me $10,000 in legal fees! Now that's an ROI! One call to Bob and he answered my legal question in what my local attorney said would be weeks of research. We all like to think of ourselves as experts in our industry so if we aren't utilizing the real experts at BTA to support us, then what are we doing?"
— Greg Gondek, ACT Group, Cromwell, Connecticut
"Repeat Business Systems Inc. has been a BTA (NOMDA) member for more than 20 years. We have benefited from the training and other offerings, but we have gleaned the most from our experiences with your attorney, Mr. Bob Goldberg. Mr. Goldberg has provided information on issues as far ranging as business acquisitions to forms for software and IT contracts. He knows the office technology industry better than anyone I have encountered in my 24 years in this industry. Aside from the excellent advice he has provided, Mr. Goldberg has also made personal calls on our behalf. For example, we were involved in a challenging issue with a leasing company that, after six months, was not resolved. Mr. Goldberg called the president of that company on our behalf and the issue was resolved within 24 hours. Thank you to BTA and Mr. Goldberg for a long history of excellence and commitment to the independent dealer channel."
— Dawn Abbuhl, Repeat Business Systems, Albany, New York
"One of the most important things is forms — the forms Goldberg puts out on the website that we can download and modify to meet our needs. I've used a lot of the employee ones (cell phone use, vehicle use, etc.), network services forms, rental agreements. All you have to do is modify them a little bit to what you want and you've got a form you can use that is legitimate and legal, and so will carry some weight."
— Cathy Dimon, Northern Business Systems, Fairbanks, Alaska
"As you know, I value greatly our BTA membership. I will have to say that one of the highest values I see with OfficeWare's BTA membership is access to Bob Goldberg and his legal advice. Bob has been a great resource over the years. He has helped us in structuring new programs and contracts. He has actually guided us and gone to bat for us in renewing dealer contracts, and also having attended several of his seminars, he has probably saved us some pain and legal expense along the way. I would certainly encourage BTA to continue to offer these services to the membership. It is of high value."
— Rick Maxwell, OfficeWare Inc., Cincinnati, Ohio
"In the past several years, I have contacted Bob Goldberg on numerous topics as they pertain to our dealership. I have been extremely satisfied with his knowledge of the dealer business. He has helped us many times regarding contracts of all types. He has sent me templates of documents — from maintenance contracts to employment contracts. It is a great benefit of being a BTA member to be able to call Bob Goldberg and and talk to him about the myriad legal issues that come up in our dealership. Every time I have contacted Bob, he has been very prompt in his response and honest in what he can help with and what he cannot."
— Roger King, EO Johnson Co., Wausau, Wisconsin
"PERRY proTECH has been a member of BTA since 1980. Over the years, our membership has benefited us in countless ways because of the many services offered by BTA, particularly BTA Legal Services, headed by BTA General Counsel Bob Goldberg. Bob's intimate knowledge of our industry and his unmatched availability and follow-up have provided us with timely, expert legal advice on a wide variety of legal matters at no additional cost. The value and cost savings we derived from his services alone greatly exceeds and more than justifies our membership fees."
— Barry Clark, PERRY proTECH, Lima, Ohio
In our continuing effort to provide additional value to BTA members, the Association has developed a library of sample contracts, agreements, forms and proposals for members to use purely for consideration as guidelines for developing their own business and legal documents.
Please contact the BTA Legal Hotline at (312) 648-2300 with any general questions you may have. These documents have been prepared for distribution to BTA members as samples only. Therefore, competent legal counsel in your area should be consulted concerning the particularities of your state's laws, as they may impact specific provisions.
Additionally, no form should be used unless, after careful review, it is the professional conclusion of legal counsel that employment of such form will accomplish the objectives and intentions for which the form was designed. BTA assumes no responsibility relating to the use of these forms and BTA, its officers, directors, employees and attorneys hereby disclaim any responsibility for, or any liability resulting from, the use of these forms.
BTA's legal documents encompass several categories:
COBRA
Computer Leasing Agreements
Confidentiality Agreements
Consultant Agreements
COVID-19 Documents
Credit Reports
Data Cleansing
Dealer Associate Agreements
Document Retention
Employee Education
Employee/Employment Forms & Documents
Equipment
Equipment Leasing
Hardware & Software Agreements
Health Insurance Notices
IT Documents
Maintenance Agreements
Managed Print Services
Managed Services
Partnering Agreements
Purchasing
Sales Order Forms and Agreements
Scope of Work
Source Code Escrow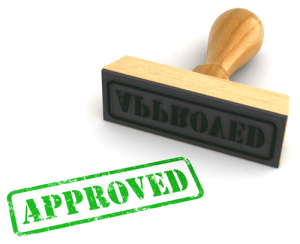 As a benefit to all BTA members, BTA General Counsel Bob Goldberg reviews the terms and conditions of dealer agreements as compared to BTA standards for fair and equitable relations. Ask your vendors for their BTA Approved Contracts. Having the BTA Seal of Approval eliminates negotiating terms with each and every dealership while preserving consistency throughout the BTA Channel.
For more information, call Bob Goldberg at (312) 648-2300 or email robert.goldberg@sfbbg.com.
This petition is being submitted on behalf of imaging equipment dealers located across the market. These businesses and representatives collectively join in asking for a change to a practice that has been long-standing by equipment leasing companies.
Dealerships regularly upgrade leases originated by competitors and, frequently, such leases are upgraded before leases come to full term. It is typical practice to refuse to provide return authorizations for such leases, even when the full equipment financing obligation is fulfilled. This results in having growing numbers of MFP's and printers in dealership warehouses, waiting for customers to convey a return authorization for the return of the equipment they have replaced and are no longer using.
This petition is asking the industry to immediately change this practice by issuing return authorizations whenever equipment financing obligations have been completed and a customer has provided a written cancelation notice of a lease. The ask is to issue return authorizations upon equipment funding financial fulfillment of any lease irrespective of the number of months remaining to term and to be transparent and accurate about the remaining equipment finance obligation on a lease whenever a customer conveys a cancelation letter and requests a final lease balance.
Click here to sign the petition.
It is our aim to assist members and their customers whenever possible in trying to stop problems with toner pirates. Included are some guidelines that will help you in this regard as well as a form letter to reject the goods. Send a copy of your letter of rejection and any copies of any invoices and correspondence that pertain to your complaint to:
Business Technology Association
12411 Wornall Road, Ste. 200
Kansas City, MO 64145
Or, fax it to: (312) 559-1172. We will forward a copy of your complaint to the FTC, which keeps a database for potential law enforcement action against these types of companies.
Also dedicated to fighting telemarketing fraud are the National Fraud Information Center [(800) 876-7060], the Better Business Bureau and the Telemarketing Fraud Contact at the Attorney General's office in each state. You should contact the Attorney General of the state from which the order was sent as well as your own home state. These agencies may also provide you with additional information and guidance on specific concerns. Lastly, information may be obtained from the Internet by visiting the Federal Trade Commission's Consumer Gateway at www.consumer.gov, and the Imaging Supplies Coalition website at www.isc-inc.org.
It is our hope that the more information we spread about fraudulent telemarketers, the sooner they can be stopped. Members may call the BTA Legal Hotline at (312) 648-2300 if they have any further questions.
Click here for more fraudulent telemarketing information.
Leasing Company Relations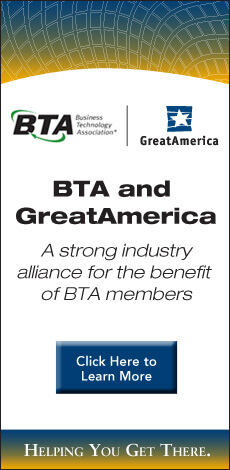 The current environment for leasing office equipment has become extremely uncertain. Many dealers have learned that changing leasing companies can be difficult for the dealer and the end user. When entering a relationship with a leasing company, here are some of the issues that should be addressed. The best time to establish these points is prior to entering, rather than upon exiting, the relationship.
End-Users: Establish that the identity of the end user is "confidential information" of your company and cannot be provided to a third party or used by the leasing company for any competitive purpose including marketing and sales purposes. This provision should extend beyond the length of the agreement and for at least one year beyond the conclusion of the last lease entered under the agreement.
Term of Agreement: The term of the agreement should extend for a set period and not cease when potential leases are no longer referred. The agreement's terms should extend to the conclusion of the term of the final lease referred. Of course, certain provisions, such as confidentiality, would extend even beyond the term of the final lease transaction.
Indemnifications: The leasing company should indemnify and hold dealers harmless from any claims resulting from the administration of the lease. Likewise, dealers should indemnify and hold leasing companies harmless from any claims resulting from the equipment and service thereof. Too often, the indemnification is limited as being from the dealer to the leasing company only.
Buyout/Upgrade Terms: Ideally, these would only be available to you, but legally they have to be disclosed to the end user as well. The agreement should set forth all the buyout terms with specificity. Buyout/upgrade terms should only be disclosed upon written request and supplied in writing. If the end user requests end-of-lease terms, the information should be supplied to the dealer for communication to the end user.
Returns: In those instances where a lease permits return of equipment, the precise procedures should be established. Dealers are encouraged to take a video of the equipment prior to return showing all sides of the equipment as well as the machine passing paper.
Receipt of Funds: Allocation of funds received to lease and for cost per copy and maintenance is important to both parties. This becomes more important if the end user falls behind in payments. The fairest resolution is to allocate any funds received on a proportionately equal basis.
Prepayment: Establish the formula for early buyouts and upgrades of equipment.
Automatic Renewal: Establish the dealer's right only to terminate during the renewal period. Thus, if the end user fails to cancel the lease during the prescribed period, you would be in a position to move the end user into new equipment for an exclusive 12-month period.
Prefunding: Certain leasing companies will prefund a dealer's anticipated monthly leases. This is much better than traditional bank financing and should be considered.
Lease Verification: The script used to verify the lease with the end user should be reviewed by the dealer and be subject to the leasing company and dealer's mutual agreement. The content of this communication is important to maintenance of customer goodwill.
Executed Document: How many manufacturers and leasing companies have received your executed agreement, but failed to execute it themselves and return your copy? Ideally, both parties should sign the agreement at the same time and exchange copies. If not, establish a "tickler" file to remind you to follow up on obtaining a fully executed agreement.
Lease Payments on Renewal: If the end user allows the lease to renew, the dealer and the leasing company should share equally the amount previously allocated solely to the lease payment. Sometimes this may not occur for one or two months due to the initial rate. The dealer should continue to receive full payment on any portion allocated to maintenance and/or supplies.
Data Security Legislation
Click here to download a sample Data Cleansing Agreement to use with your customers.
Click here to download a sample Data Cleansing Waiver to use with your customers.
Click here to read data security questions and answers from vendors.
There has been a great deal occurring in regard to state legislation addressing data security. First, I would like to thank Konica Minolta and Toshiba for making knowledgeable individuals available to explain to legislators the facts regarding document retention on hard drives. To date, there has not been a single instance discovered where data on a hard drive of a digital copier, printer, fax or scanner caused a breach of confidential information.
Not one legislator has received a constituent complaint, with all proposed legislation resulting from the CBS report. There is a new bill that has been introduced in Colorado, adding that state to New Jersey, Florida, Arizona, Oregon and Washington, all with pending legislation. Colorado State Representative Dan Pabon, (D-Denver) has introduced Colorado House Bill 1225 to safeguard private data with a requirement that a "commercial entity that holds the personal information has been audited by a qualified information technology auditor and found to be implementing best practices and meeting information technology security standards" and the "qualified technology auditor" employed by that company be certified by "the state's chief information officer" as qualified to act as a data security auditor. This legislation would create an entire industry in Colorado to certify and audit security standards. The Business Technology Association will monitor the progress of this measure.
Model legislative language is being developed in those instances that legislation will be pursued by sponsors despite efforts showing it is not necessary. For legislative purposes, the following definition of a "Digital Copy Machine" has been drafted. Your comments are welcome:
A digital copy machine means a business machine that, as a primary purpose, uses a digital process and hard drive to produce and retain an immediate duplicate of an original document and does not include any other machine or equipment to which the digital copy machine is connected.
On Feb. 9, 2011, the Business Technology Association and Chris Biello of Konica Minolta, along with the Equipment Leasing and Finance Association (ELFA) and the Information Technology Industry Council (ITI), met with New Jersey State Senator Bob Smith (D-Piscataway) in his district office. Discussion centered on his introduction of Senate Bill 2153 requiring the destruction of records on digital copy machines.
A similar bill has already passed the House of Representatives in New Jersey. After reviewing existing security features on copiers, the ways in which data can be stored to hard drives, as well as Federal Trade Commission (FTC) and New Jersey attorney general efforts to address the issue, Senator Smith asked those present to develop recommendations for refocusing his bill to educate end users. Public service announcements were suggested. Smith was pleased with the efforts that had been taken by the industry. He was grateful for the factual corrections to the CBS report. Smith requested we meet with Senator Linda Greenstein (D-Mercer/Middlesex) who had introduced the legislation in the House prior to being elected to the Senate. The New Jersey legislation will now focus on education of end users. BTA is working to draft an appropriate resolution, conduct a meeting with Senator Greenstein and follow-up with the New Jersey attorney general.
On Feb. 15, 2011, the Business Technology Association, along with the Equipment Leasing and Finance Association (ELFA), the Associated Industries of Florida, the Florida Chamber of Commerce and the Florida Bankers Association met in Tallahassee, Fla., with Representative Eddy Gonzalez (R-Hialeah Gardens) in regard to Florida House Bill 551. This legislation requires cleansing and warning labels for copy machines, scanners, facsimile and printing equipment. Representative Gonzalez was informed of the steps taken by the industry, the factual inaccuracies of the CBS Report and the approach taken by Congress and the Federal Trade Commission.
The Florida Bill was a result of an educational course Gonzalez was conducting for a junior high school. As in New Jersey, Gonzalez did not feel legislation was required and will concentrate on an educational effort. Public service announcements were suggested andGonzalez thought both Spanish and English versions would be appropriate. The group also offered to meet with the junior high students and review the CBS Report, the facts and the industry steps being taken to protect confidential information. Gonzalez indicated the Florida legislation would be withdrawn.
On Feb. 21, 2011, the Business Technology Association, along with the Equipment Leasing and Finance Association (ELFA), Arizona Bankers Association, Arizona Retailers and others will meet with Representative Bob Robson (D-Chandler) to review proposed amendments to Arizona House Bill 2244. This is the second meeting with Robson, the first attended by BTA through Alan Lang of Toshiba. Robson is anxious to be the first elected official to pass legislation regarding data security, hoping his bill becomes a model for other states. Efforts will be made for Robson to pursue the education course, however this may be difficult. The amendments drafted place the cleansing burden on the entity that stored the information. The scope of the law is digital copy machines with a hard drive. A report on the meeting with Robson will follow.
The Oregon House Bill 2938 covers "public bodies" and entities that that offer copies for a fee to take steps to protect confidential information and cleanse hard drives. The Washington House Bill 1216 applies only to public agencies. At this point in BTA's efforts the Arizona proposal appears to headed towards legislation, however that is subject to change, approval by the Senate and signature by the governor. It is also likely that additional states will introduce proposals. I will continue to keep you advised.
Bob Goldberg
The tremendous interest generated by the CBS Evening News report about data retention on the hard drives of copiers, faxes, printers and scanners has provided a unique opportunity for BTA and the industry. BTA has held industry summits on the subject and has worked with the Federal Trade Commission, state attorney generals and state legislatures regarding their proposed legislation. All parties are in agreement that educating the public about this risk is the key to eliminating the compromise of any confidential data.
Click here to download a sample Data Cleansing Agreement to use with your customers.
Click here to download a sample Data Cleansing Waiver to use with your customers.
To date, there have been no reported instances of security breaches due to data retention on business equipment. What has been clearly established is that a considerable amount of misinformation on the issue exists. Following BTA's success in educating the public about "Toner Phoners," the pamphlet in the artwork below was developed for all dealers to use. This pamphlet can be customized for your company, and you can distribute it with invoices or by salespeople and technicians to customers, civic groups, religious organizations and the general public.
BTA members: To order your customized PDF of the Data Security pamphlet featuring your company logo and contact information, send your company name, address, phone number, website and company logo (at least 300 dpi) to Elizabeth Marvel at elizabeth@bta.org.
(As a service to the industry at large, generic pamphlets are available to non-member dealers. The provided PDF can be used to print the pamphlet at your location or local printer.)
Interested in pre-printed customized pamphlets?
For a printing quote on your preferred quantity (100 or more) contact Valerie Briseno at valerie@bta.org or call (800) 843-5059.
Front side of pamphlet: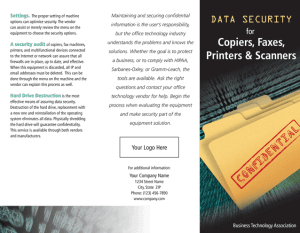 Back side of pamphlet: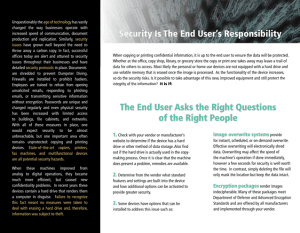 In recent years, BTA has taken the lead to thwart any state data security legislation from moving forward or being passed, as it relates to the data that is on the hard drive of a copier/MFP. To respond to inquiries we have received from members, below are answers to questions about data security from industry vendors. These Q&A's were completed in September 2012.
Click here for the Q&A.
In recent months, many dealers have received a phone call or email from one of their customers who is being advised by letter that his (or her) company is violating numerous patents by scanning a document, sending it over a network and emailing it to others. The letter is from Project Paperless, HeaPle LLC or any of a number of shell entities claiming rights under what are commonly known as the "Laurence Klein" patents.
The letters are from law firms and others alleging the need for license fee payments. Sent by or on behalf of various licensing agents, the patent trolls seek fees based upon employee count. Fees demanded vary, but the average is $1,000. Patent trolls, as you might expect, are entities that seek to enforce a patent, but neither make a product nor perform a service. Their sole purpose is to enforce a patent that, very often, they did not originally file.
On May 16, 2013, an NBC affiliate in Connecticut aired a piece on patent trolls and interviewed BTA General Counsel Bob Goldberg. Click here to view the interview.
Update: The Vermont Attorney General has brought an action against MPHJ Technology Investments for false and deceptive practices. Click below for two articles about this action:
BTA has prepared an end-user educational pamphlet that dealers and others can share with customers as invoice stuffers and otherwise. The pamphlet is similar in nature to the one prepared for distribution several years ago, when the industry was facing the issue of data security related to the use of an MFP's hard drive.
This pamphlet can be customized to include your dealership's company logo and contact information. See the front and back view of the pamphlet below.
BTA has also made an informational flyer available for members to use on their websites or to send to customers. Click the links below for different formats to display this flyer:
BTA will email you the customized version, for you to print in house or at a local printer. Or, for a printing quote from BTA of your preferred quantity (100 or more) contact Valerie Briseno at valerie@bta.org or call (800) 843-5059.
As a service to the industry at large, generic pamphlets are available to members and non-member dealers. The provided document can be used to print the pamphlet at your location or local printer.
Front side of pamphlet: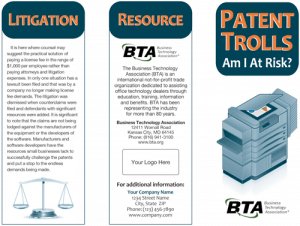 Back side of pamphlet: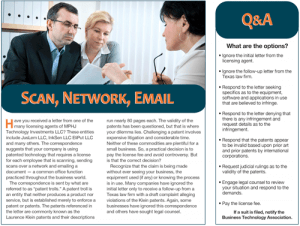 BTA has named a scholarship after Goldberg, thanking him for his service to the association. Watch the video below to see 2014-15 BTA President Ron Hulett present Goldberg with the Bob Goldberg Legacy Award.
On Nov. 2, 2017, Goldberg was presented with a Lifetime Achievement Award at The Cannata Report's 32nd Annual Awards & Charities Dinner held at The Madison Hotel in Morristown, New Jersey. Watch the video below to see the award presentation.