GreatAmerica Financial Services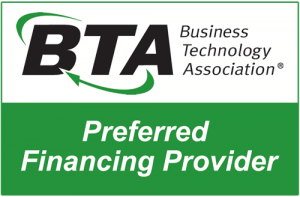 GreatAmerica is BTA's Preferred Financing Provider
BTA established a strategic alliance with GreatAmerica Financial Services for the benefit of its members on Feb. 1, 2010. GreatAmerica has maintained the highest standards in supporting independent BTA members. Click here to read the original full article.
About GreatAmerica:
GreatAmerica is a partner to many office technology companies and is dedicated to helping them become more successful. Its commitment to understanding the industry has positioned GreatAmerica as the unparalleled leader in single-invoice solutions. GreatAmerica delivers all of this with what has come to be known in the industry as "The GreatAmerica Experience."
For more information, visit www.greatamerica.com.
Ancillary Products:
GreatAmerica Financial Services is more than just a national financing company. We also offer innovative, non-financial services to help its dealers evolve their businesses, such as:
Collabrance LLC, a Master Managed Service Provider (MMSP), provides tools, training and industry experts to help you effectively and profitably scale your business. Partnering with Collabrance allows you to focus on generating revenue and strengthening relationships while we take care of your customers' IT needs.
PathShare HR Services tailors solutions to help you attract, motivate and retain your employees. Count on our experienced team, effective tools and proven processes to hire and train your employees for maximum results.
GreatAmerica at BTA Events:
Look for GreatAmerica at the next BTA event. Stop by our booth for your chance to win our $100 Visa Gift Card!
Contact GreatAmerica:
Questions? For more information, feel free to contact GreatAmerica at communications@greatamerica.com or (800) 234-8787.