December 7, 2021 BTA Hotline
Can't view HTML emails? Click here for an online version of the Hotline.

Dec. 7, 2021
Issue No. 777










---
Join us for Thursday's Building My Business webinar:




Leveraging MFPs & Scanners to Address
Digital Transformation
4 p.m. Eastern, Thursday, Dec. 9
Presented by Presented by Ralph Gammon
& Barbara Richards, InfoSource

Click here to register.


Today's dealers are evolving, adding new products, new revenue streams and new ways of selling. As your business changes, the tools your team uses need to keep pace.

AgentDealer®, built on the Salesforce.com platform, is scalable to any direction your business takes you. Adding new products, sales stages and reports is quick and straightforward.

Our team of certified specialists are available anytime to answer your questions and provide consulting based on best practices so that you can build that perfect system for growth.

As your business moves in new directions, shouldn't your CRM be able to move with you?
For more information on BTA Hotline sponsorship, contact Valerie Briseno at valerie@bta.org. (Note: Sponsors are not endorsed by BTA and members should thoroughly investigate claims and offers made by them prior to purchase.)

December 11 Webinar to Focus on Leveraging MFPs & Scanners to Address Digital Transformation
The 187th webinar in BTA's Building My Business Webinar Series is scheduled for 4 p.m. Eastern on Thursday, Dec. 11.
Marco Names Akervik Chief Operating Officer
BTA member Marco has announced that Trevor Akervik has been promoted to chief operating officer.
TD SYNNEX Launches New Global Security, Data & IoT Click-to-Run Solutions
TD SYNNEX Corp. has launched a set of global security, data and IoT market-ready solutions available on the StreamOne platform.
ConnectWise Announces Acquisition of SmileBack
ConnectWise has announced it has acquired SmileBack, a customer experience solution provider.
HP Indigo Accelerates Industry 4.0 Solutions Across Industry Segments & Digital Product Portfolio
HP Inc. has unveiled new ways for print service providers to grow their digital-based business and put Industry 4.0 into practice by enabling better automated tools to enhance connectivity, productivity and support customer growth as print service providers move to capture online business.
Upland Announces FileBound Fall 2021 Release
Upland Software Inc. has announced its most comprehensive FileBound product release to date, designed to improve ease of use while expanding capabilities around automated workflow.
Static Control Launches W Series Replacement Cartridges
Static Control has announced the release of non-OEM replacement cartridges for the W cartridge series used in the latest generation of HP printers.
Clover Unveils New Packaging Focused on Environmental Sustainability
Clover Imaging Group has redesigned its ink and toner cartridge packaging to tangibly reflect the company's commitment to environmental sustainability.
Sharp Names Joe O'Malley Senior Vice President Of Sharp Business Systems
Sharp Imaging and Information Company of America (SIICA) has announced that Joe O'Malley has been appointed as the new senior vice president of SIICA's direct sales and service operations, Sharp Business Systems (SBS).
Glenn Stevens Appointed Next Chair of Macquarie Group & Macquarie Bank
Based on Peter Warne's previously announced decision to retire by the 2022 Annual General Meeting, the boards have resolved that Glenn Stevens be appointed as the next chair of Macquarie Group Ltd. (MGL) and Macquarie Bank Ltd. (MBL).
Hyland Names Tomijiro Sugiyama New Japan Country Manager
Hyland has named veteran industry leader Tomijiro Sugiyama its new country manager for Japan.
Verdant Commercial Capital Moves Headquarters
Verdant Commercial Capital has announced it is moving its headquarters to a new location in Cincinnati, Ohio.

Ricoh USA Names to Channel ESE's Top 250 Public Cloud MSPs List for 2021
ChannelE2E has named Ricoh USA Inc. to the Top 250 Public Cloud MSPs list for 2021.
MPS Monitor Establishes Direct Presence in the United Kingdom
MPS Monitor has announced that it has established MPS Monitor UK Ltd.
Lexmark Earns 2022 Military Friendly Employer Designation
Lexmark has announced that it has earned the 2022 Military Friendly Employer designation, marking the seventh consecutive year Lexmark has been awarded the designation for its commitment to veteran and service member employees.
All Covered Featured on CRN's 2021 Fast Growth 150 List
Konica Minolta Business Solutions U.S.A. Inc. has announced its IT services division, All Covered, has been named to CRN's 2021 Fast Growth 150 list.
The 20 Named in the Dallas 100: The Fastest-Growing Private Companies in North Texas
The 20 is being acknowledged by The Caruth Institute for Entrepreneurship at Southern Methodist University's Cox School of Business in The Dallas 100: The Fastest-Growing Private Companies in North Texas.
Click here for all recent BTA Hotline articles.
BTA Dealer Members:
If you have news to share, email Elizabeth Marvel to have it published in the BTA Hotline.

Dec.
9

Building My Business Webinar: "Leveraging MFPs & Scanners to Address Digital Transformation"
The COVID-19 pandemic has accelerated the shift from paper-based documents to digital inputs. How do office technology dealers diversify their portfolios in this changing business environment, and what are the challenges and opportunities that lie ahead? During this webinar, join InfoSource analysts Ralph Gammon and Barbara Richards as they share their insights and perspectives on digital transformation initiatives and the key market trends impacting knowledge workers. Do not miss this important webinar covering the future of the office solutions market. For more information or to register, click here.
April
22

BTA Service Academy
This two-semester program, led by Ken Edmonds of 22nd Century Management, is designed to help experienced service managers, new service managers and supervisors to become better leaders for their teams. This online training will help them better serve their companies and prepare them to accept greater responsibility. Attendees will develop the skills they need to optimize their teams and deliver consistent improvement in both customer satisfaction and profitability. For more information or to register, click here.

Ongoing

30-Day LinkedIn Bootcamp
Learn why and how you can unleash your sales potential on the number-one B2B social media channel — LinkedIn. If you are an office technology dealer, MSP or an office products business leader, this bootcamp is for you. Tuition includes the following: LinkedIn Bootcamp kickoff webinar by Rick Lambert of selltowin; five coaching videos (15 minutes each); five sales playbooks; 12 pro-tip videos (one minute each); a LinkedIn profile template; quizzes and progress tracking; and a certificate of completion. For more information or to register, click here.

Ongoing

BTA Service Troubleshooting Training
Taught by veteran service manager Ken Edmonds, this self-paced, video-based course covers all aspects of troubleshooting, starting with what troubleshooting is and the processes that are involved. The course consists of six video modules, two assessments, quizzes, written material and checklists for use in the field, and the cost provides one year of access to the modules. For more information or to register, click here.



For details on these events and to stay abreast of industry events, visit the
BTA Community Calendar.

The December issue of Office Technology, the monthly magazine of the Business Technology Association, is now posted on the BTA website. You will need your username and password to access the online magazine.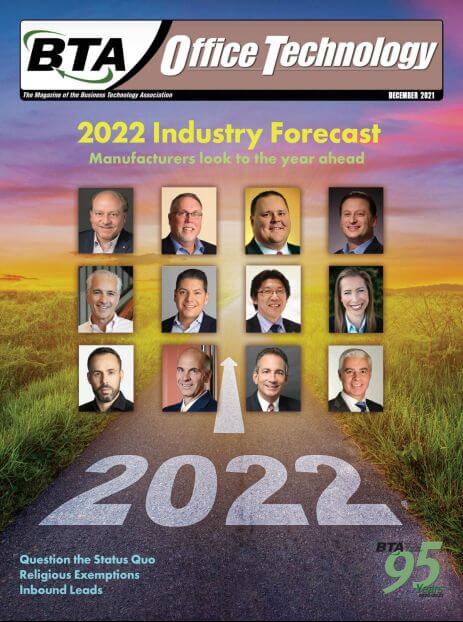 Click here to view the magazine online.

Click here for the Office Technology archives.

ZoomInfo B2B Contact Data

ZoomInfo helps companies achieve their most important objective: profitable growth. Backed by the world's most comprehensive B2B database, the ZoomInfo platform puts sales and marketing professionals in a position to identify, connect and engage with qualified prospects. Join the 15,000-plus businesses whose sales and marketing teams rely on ZoomInfo's B2B database to identify, connect and close customers. Direct dial phone numbers? ZoomInfo has you covered. Email addresses? ZoomInfo has those, too — and so much more. On top of the most accurate B2B contact data in the marketplace, ZoomInfo profiles provide details about job responsibilities, professional certifications and accolades, work experience, education, web mentions and social media profile links. BTA members receive a 10% discount.
For more information, contact Ricky Kalmbach, senior partner account manager, at (360) 783-6819 or email ricky.kalmbach@zoominfo.com and reference that you are a BTA member.
For more information on other BTA member benefits, click here.

Join BTA on Facebook, LinkedIn, Twitter & YouTube
Click the buttons below to follow, become a fan or add BTA.

BTA Membership
Your BTA benefits are listed on the BTA website. Be sure to take full advantage of your membership by using the many discount programs and business services BTA offers exclusively for its members. Click here to learn more. Not a member yet? Join online.

This email was sent on behalf of Business Technology Association. To unsubscribe, click here. If you have questions or comments concerning this email, contact Business Technology Association at info@bta.org.